The Diamond Buying Guide: Diamond Cuts, Clarity, Carat and Colour
Buying a diamond can be an exciting experience, but with so many different types and colours available, it can be difficult to know which is the right one for what you're looking for.
There are four main factors that you should be looking out for when you are shopping for a diamond: the cut, clarity, colour and carat — often known as "the 4c's of diamonds". The perfect diamond will vary for everybody depending on your budget, the value for money on offer and your personal style preference. But, our diamond buying guide is here to help you find the best one for you.
Here, we will be discussing what you should consider when buying a diamond. We'll cover:
The 4 C's of diamond buying
The diamond-buying process is four-pronged and includes assessing diamond cut, clarity, carat and colour. Here, we will be explaining what each of these mean and how to choose the best diamond for you.
Diamond cut
The cut grade of a diamond refers to the geometric proportions of the gem and is categorised into five grades: excellent, very good, good, fair and poor. The cut grade refers to a diamond's potential to reflect light around the stone and back out to your eye. When diamonds have a good, very good or excellent cut grade, you will see lots of brightness and sparkle.
The effects of a good, very good or excellent diamond cut grade can be split into three areas:
Brilliance — the white lights or brightness reflected from the diamond.
Fire — the flash of rainbow colours.
Scintillation — the pattern or sparkle of light and dark the diamond displays.
Diamond cuts are often overlooked but are possibly the most important 'C' if you want a bright, attractive looking diamond.
Diamond clarity
Diamond clarity is a measurement of clarity characteristics:
Inclusions — any mineral or feather causing an imperfection inside of the diamond, and
Blemishes — any imperfection to the surface of the diamond).
There are eleven diamond clarity grades running from flawless to I3 (included 3), based on the number, position and type of inclusions or blemishes that are visible at 10x magnification.
| | |
| --- | --- |
| Diamond clarity | About these diamonds |
| Flawless | These have no inclusions or blemishes, even when inspected by a skilled grader under 10x magnification. |
| Internally flawless (IF) | There are no inclusions when inspected by a skilled grader under 10x magnification, however there are very minor blemishes. |
| Very very slightly included 1 & 2 (VVS¹& VVS²) | There are inclusions but they are very difficult for a skilled grader to see under 10x magnification. |
| Very slightly included 1 & 2 (VS¹ & VS²) | The inclusions are minor and can be considered anything from difficult to relatively easy to spot when checked by a skilled grader under 10x magnification. |
| Slightly included 1 & 2 (SI¹ & SI²) | The inclusions are noticeable to a skilled grader under 10x magnification. |
| Included 1, 2 & 3 (I¹, I² & I³) | The inclusions easily seen under 10x magnification. They may also be eye visible or affect the durability of the diamond. |
While the above shows that flawless is the best diamond clarity to buy, it's important to remember that diamond clarity is graded using 10x magnification and many imperfections are not visible to the naked eye. This means that clarity is a great area where you can save on the budget!
If you are looking at buying a round brilliant cut, we would recommend any clarity grade SI² or above.
Diamond carat
Diamond carats relates to the weight of the stone, with each metric carat equalling 200 milligrams. The higher the carat number, the more expensive and desirable it is likely to be. For example, a 1 carat diamond could be 50% less to buy than a 2 carat one.
Any well-cut diamond of a particular weight will have this spread across a certain diameter, but for poorer cut diamonds, you may be paying for diamond weight you can't see — particularly if you are buying a deep setting where some of the diamond may be hidden.
When it comes to searching for the perfect diamond carat, there are a couple of things you should consider:
· Buy shy: Buying just under key carat weights such as 0.33ct, 0.50ct and 0.75ct can help you to maximise what you get out of your budget. For example, buying a 0.45ct instead of a 0.50ct will save you a significant amount of money and it won't be noticeable to the naked eye.
· Examine finger size: The smaller your finger is, the larger your diamond will appear, so if you or your loved one have small fingers, you can get away with a smaller carat weight for a diamond ring.

If a piece of jewellery has more than one diamond, such as a cluster ring, all of the stones on the item are weighed together to give a combined carat weight, as opposed to individually.
Diamond colour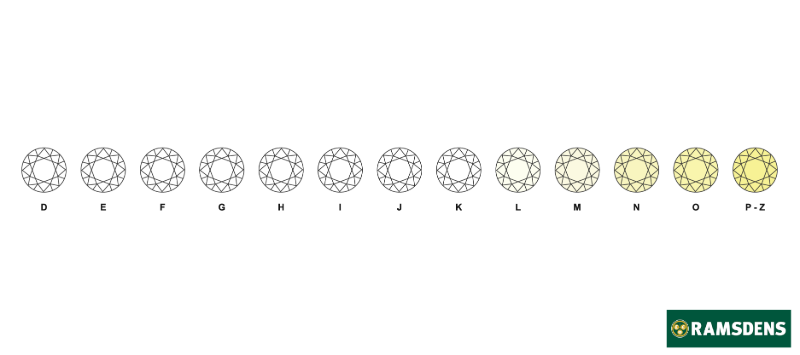 The colourless diamond scale runs from D to Z. A diamond with no traces of colour will be classified as D, while Z is a diamond with the maximum amount of colour before it would be deemed a fancy-coloured diamond.
The majority of diamonds sold are what is known as 'near colourless': diamonds categorised as G–J. Buying a diamond in the G-J colour range is a great way of maximising on your budget, as these diamonds are significantly cheaper than D–F coloured diamonds, but an untrained eye will struggle to notice the difference. If you really want to maximise on budget, try a K–M coloured diamond in a yellow setting to mask some of the subtle yellow colour the diamond will display.
Balancing the four C's
To make sure you choose the best diamond, think about which of the 4 c's is most important to you and which you are happy to compromise on. We would suggest getting a good to excellent diamond cut grade as this will help mask any colour in your diamond and hide inclusions from the naked eye. If you are looking for a larger carat weight, try keeping just below key weights to reduce your costs. If you want to get a great-looking round-brilliant diamond on a budget, we would suggest looking at diamonds good-excellent cut grade, H–J colour and SI1–I1 clarity.
Other diamond buying tips
Apart from looking at the 4 c's of diamond buying, there are also some other general tips to follow that can ensure you know how to choose the best diamond suited to your preference and budget.
Setting a budget for your diamonds
It's no secret that diamonds can be among the most expensive material purchases in a lifetime. This is especially true if you've got your eye on the best of the best. But, with many other life essentials to save and spend on, it's a smart idea to set a budget before you begin searching so you don't overextend your finances.
The simplest way of doing this is to take your monthly income and add up your essential spends on things like food, rent and bills. Once you've got these figures subtract the essentials from your income to give your disposable income and then consider how much you will typically spend on inessentials like socialising and subtract these to see how much you could save.
Once you have in mind how much you can save each month, you can add this up and see if it's possible to save the amount you need by the date you plan to propose. If it's not looking likely but you're set on having it for that day, you'll need to think of ways you can cut back on spending, whether that's less meals out or switching supermarkets for the food shop.
Consider diamond shape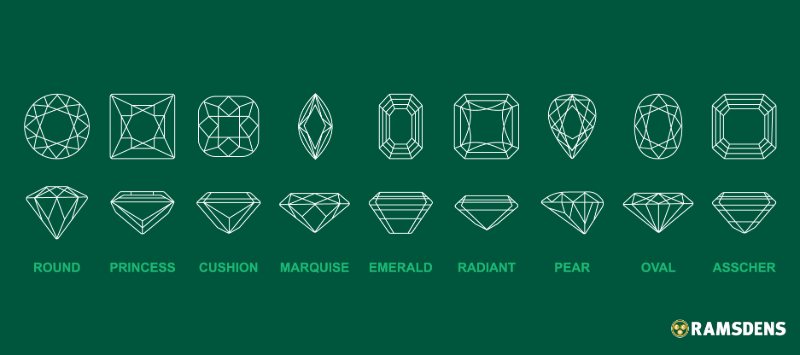 In addition to the four C's, diamond shape is a major factor when choosing your perfect stone. The most traditional shape and cut is the round brilliant cut. This diamond is perfect for a classical look which maximises on brilliance, fire and scintillation, meaning you will have a lovely bright and sparkly ring. However, there are lots of other options:
Emerald cut: This rectangular shape is classic and striking. Great for elongating fingers and giving a bright reflection, but make sure you save some of your budget for a good diamond clarity as emerald cuts do not hide inclusions well.
Princess cut: This square shape of diamond provides all the brilliance, fire and scintillation of a round brilliant cut but is slightly cheaper — a great look if you like clean, tidy and sleek lines.
Cushion shape:This diamond shape is halfway between a princess and a round brilliant. A slightly softer appearance than a princess cut but harks back to the traditional shape of an old mine-cut diamond for any vintage jewellery lovers.
Oval shape: Oval diamond shapes are brilliant for elongating shorter and wider fingers where a round diamond may not be appealing. An oval gives a soft appearance but something a little different from the traditional cuts. They provide lots of fire and scintillation but make sure to get a good cut grade as you want the outline shape to be symmetrical.
Choose a reputable jeweller
In general, the easiest way to spot a reputable jeweller is to analyse how long each one you consider has been in the business. In such a competitive market, only the best will survive and the length of time they've been established in the industry is a good sign of trustworthiness and customer satisfaction.
Check a stone's certification
Before committing to a purchase, you need to be confident that the diamond you're buying is authentic and therefore worth the money you're about to part with. Your jeweller should have the certificate confirming this which includes details about your diamond from grading boards like the GIA (Gemmology Institute of America).
Knowing the exact properties of your diamond and having paperwork to certify this will ensure you're not paying over the odds for what your diamond is actually worth.
Take your loved one's tastes into account
If you're buying for somebody else, it's particularly important that you take their preferences into account when selecting a diamond. This could be anything from the shape of the diamond to the metal colour and setting style. Your best bet of doing this is to strike up conversation about diamonds with them, but if this seems too obvious, looking at their current collection of jewellery can help you suss out their tastes.
How Ramsdens' grading works
We are happy to provide a Ramsdens diamond grading report for any of our diamonds over 0.30ct. Due to our diamonds being within a setting there are certain limitations to the grading, please see our grading terms and conditions for further information and note that any diamond with a lesser colour than L will be referred to as 'Tinted' due to the setting limitations.
This report is issued by Ramsdens Financial Limited (the company) and is subject to the following terms and conditions.
The report is supplied for the benefit of the customer and is issued for their exclusive use. The issuer has made no representation or warranty regarding this report, or gemstone described.
Since gemmological classification is not an exact science this report represents only the best professional opinion of the Company.
The Company is in no case responsible for the differences which could occur by repeated expertise and/or other standards, norms, methods or criteria used other than those used by the Company.
Whilst the Company is committed to continually investing in equipment and improving techniques, the results of any other examinations performed on the item may differ depending upon, when how and by whom the item is examined, and upon the changes and improvements in techniques and equipment that may have occurred which may enable the examiner to detect, among other matters, the use of processes for altering the characteristics of an item, or the alteration which became reversible even if the process remains undetectable , which could not previously have been detected by the Company.
The report has been completed based on tests of the item described on the certificate document.
1. The Company has examined the item(s) carefully with specialised instruments and prepared this report to the best of their knowledge and professional standards.
2. Expert opinions may reasonably vary as to the characteristics covered in this report, hence the Company or any member of their staff shall not, at any time, be held responsible for any discrepancy which may result from the application of other testing methods. Where gems are set into finished items prior the examination, all assessments and weights given must be considered approximated as the accuracy is limited to the extent that the mounting permits.
3. The report expresses an opinion at the time of the examination of the item and neither the customer nor any purchaser of the item shall regard this report as an appraisal or as a guarantee or warranty
4. The liability of the Company for any direct loss or damage which the customer may suffer as a result for this report is limited to the fees paid by the customer to the Company for this report.
5. The company shall not be liable to the customer for any loss of profit or any indirect or consequential (including economic) loss of any kind which the customer may suffer as a result of or in connection with this report.
6. This report and any dispute arising out of or in relation to it shall be governed by the laws of England and subject to the exclusive jurisdiction of the English courts.
Hopefully, after reading our diamond guide, you know the importance of looking at the clarity, cut and colour of diamonds, as well as the carat weight. Doing this can ensure you find a gem that meets your specifications in both style and budget.
Here at Ramsdens, we have a beautiful collection of diamond jewellery for men and women. Our selection includes everything from stunning diamond rings to diamond pendants, so you are sure to find a piece you'll love here. On a budget? We have a great range of pre-owned jewellery that includes pre-owned diamond rings, as well as offering a price-match promise so you can guarantee you're getting a competitive price.
If you have any questions, please feel free to contact us, or visit us at your nearest branch. And, don't forget to check out the rest of our jewellery and watch guides and blogs for more inspiration and information on buying, cleaning and caring for your jewellery.
The benefits of buying with us